Environmental Think Tank Details 'Impact Pathway' That's Largely Absent in Fracking Health Research
Environmental think tank Resources for the Future (RFF) recently released six issues briefs on hydraulic fracturing that summarize RFF Senior Research Associate Daniel Raimi's book "The Fracking Debate." These briefs tackle a wide range of topics, including climate change, health, earthquakes, water quality, local governments and the economy.
Notably, the public health brief details a five-step "impact pathway" that "ideally" would be used by researchers to "measure each link in the causal chain that could potentially lead to health impacts from oil and gas development…" This "impact pathway" offers a step-by-step process for analyzing research related to fracking and health:
As RFF communicates in both the issues briefs and a recent webinar, the current body of research on fracking and public health largely consists of researchers identifying just two of these steps – activities and impacts – and failing to address the burdens, concentrations and exposure:
"Instead, most studies measure a subset of these links, such as activities (the amount of oil and gas activity in a specific area) and impacts (health measures for individuals living near those activities). Without measuring the other links in the causal chain such as burdens, concentrations, and exposure, it is difficult to have certainty in study results."

"No study has identified the mechanism for these health impacts, and only one study reviewed was able to assess each link in the causal chain…"

"Despite the real concerns over health risks of living near shale development, researchers have not identified the pathway such as air emissions, water contamination, psychological stress, or any other cause —through which an individual's health may be a detected." (emphasis added)
As RFF Research Assistant Isabel Echarte noted during the webinar, these systemic research gaps have essentially created more questions than answers for policymakers.
"Existing data gives researchers very limited information. Ideally we would be able to observe each step in that chain so we could dispatch an adequate policy response. But with current data on measured health impacts, researchers often lack several of these steps." (emphasis added)
On numerous occasions, EID has noted these common shortcomings in research that attempts to claim a causal link between fracking and negative public health impacts. In fact, six of the most widely-covered fracking health studies from the past three years failed to measure burdens, concentrations and exposure — three of the five major steps identified in RFF's "impact pathway."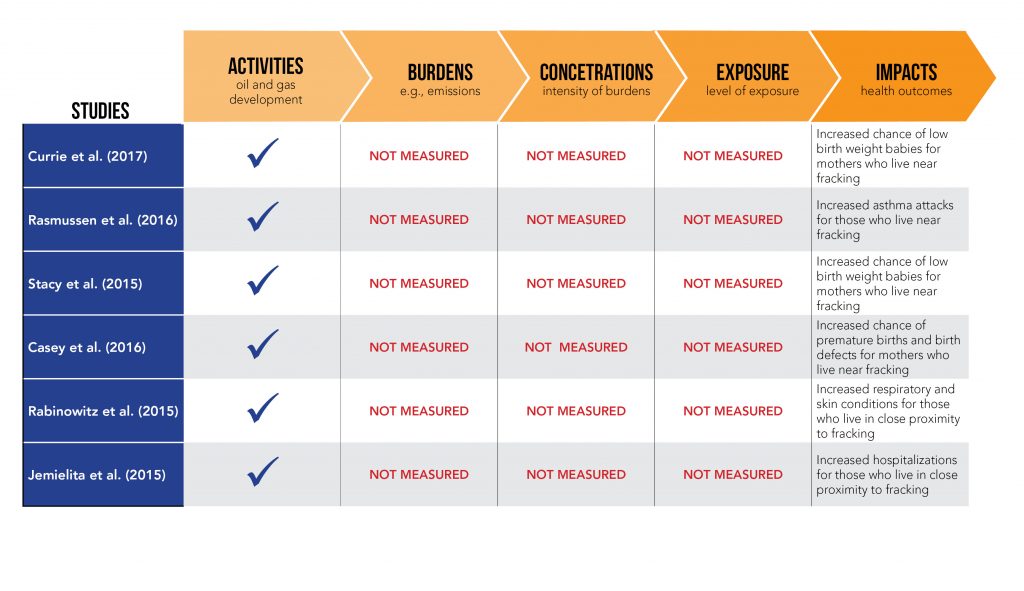 In other words, they simply connected "shale development" to certain impacts while skipping over the processes necessary to make such a connection.
Despite these fundamental flaws, these studies received coverage in the Washington Post, Reuters, U.S. News & World Report, The Associated Press, USA Today, CBS and other major media outlets.
Not only did each of these widely-covered studies fail to measure burdens, concentrations and exposures, the purported impacts reported in each paper were highly questionable as well (see EID's debunks here, here, here, here, here and here).
Conclusion
The ideal five-step "impact pathway" outlined by RFF has, thus far, rarely been used to guide comprehensive research on fracking's alleged health effects.
One explanation for this is the fact that a vast majority of the research thus far has been preliminary in nature and intended to form hypotheses rather than draw concrete conclusions. Of course, based on the sensational (and misleading) media coverage these studies have received, the public could be forgiven for thinking fracking "causes" innumerable negative health impacts.
To be fair, no research study is ever going to be perfect. Limited resources and data constraints will always force researchers to incorporate certain assumptions into their work. In many cases, these assumptions and limitations are described in the reports. The problem is that the press release that accompanies the study, which is the primary vehicle through which that research will get media coverage, typically neglects or downplays those limitations.
The result? Headlines that connect fracking to birth defects, asthma, and other maladies. The limitations, if even mentioned in the stories, are buried – and often described as merely what "industry claims" about the study. In turn, anti-fracking groups liberally cite those headlines in their own research to "prove" that fracking is a threat to public health.
Does this mean all research identifying health risks from fracking are just fake news? Of course not. EID agrees with RFF that researchers should strive to address each step of the impact pathway in order to better inform public policy and advance the intellectually honest discussion regarding fracking and public health.
In the meantime, the general public should digest coverage of these "fracking harms health" studies with a bit more skepticism. Based on RFF's guide, such skepticism is certainly warranted.